About Eddie's Exterminating

Extermination and Animal Control in Hendersonville, Tennessee

Eddie's Exterminating is a locally owned and operated pest control company located in Hendersonville, Tennessee. We have been in existence for six years but the owners have more than 25 years of experience in the pest control business. As a professional outfit we pride ourselves on a high level of customer service – we treat all our customers like family and we operate a very affordable pricing structure. All seniors get a 10% discount on yearly maintenance and we run 5% discount promotions for other clients.
Our business slogan is 'prevention is the key' and it is one we emphasize to customers on a regular basis. We are fully insured and bonded and hold pest control and termite licenses. Our technicians are very careful and comprehensive I their work and can remove all sorts of creatures from your home including 
raccoons, snakes and possums
, as well as treating infestations of bugs such as roaches, bees and carpenter ants.
-Wildlife And Snake Removal
-Roaches/Wasps/Bees
-Rodents And Moles
-Spiders/Fleas/Ants
-24 Hour Emergency Service
And More ...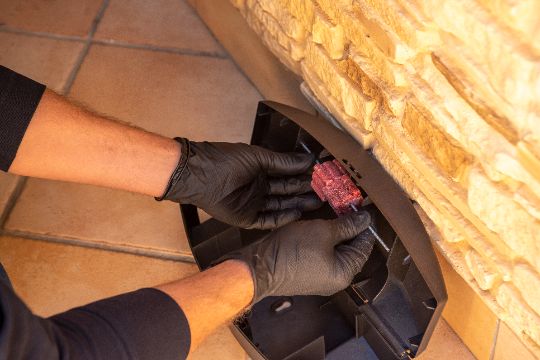 Pest Control and
Animal Removal

For home owners, a bug invasion of their houses can make their skin crawl. The appearance of a large snake or an aggressive creature such as a skunk can be terrifying for many people. In such circumstances it is essential to contact a professional pest control company and, if you live in or near the Hendersonville area of Tennessee, make sure you call Eddie's Exterminating. We will remove all insects and bugs including wasps, cockroaches and antsusing techniques that have served us well for years.

If you come home to find a larger animal in your home, you should never panic or try to handle the situation on your own. We have trained professionals who are expert at removing the creatures from the home with as little fuss as possible. In most cases we can safely trap and remove the animal and our team will give you tips on what steps you can take to keep the creatures from coming into the house in the first place.